Opening Harbor Pavilion at the MAS in Antwerp
2011-02-08 09:13:23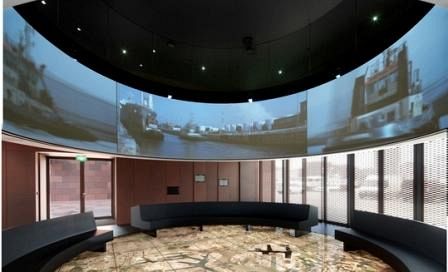 The Harbor Pavilion, the second pavilion at the foot of the MAS (Museum aan de Stroom) in Antwerp, officially opened his doors last Saturday, the fifth of February.
In this pavilion visitors can watch the big tanker ships entering the harbor on a 360° ensemble of computer screens projecting live images of the navigation activities in the harbor. In this way the founder of this pavilion, the Port of Antwerp, wanted to give the audience the opportunity to follow the harbor activities on this historical location.
Beside this projection room, there is also a conference room on the floor above, and a multimedia room with kitchen on the floor below.
The whole concept and performance of the construction works was in hands of Crepain Binst Architecture. The technical installations are designed and put into operation by CES. Due to the insufficient electrical power on site, CES chose to use high efficiency gas heat pumps that are cooled down with dock water for the cooling production in this building.
http://www.atv.be/item/havenpaviljoen-opent-de-deuren-aan-het-mas